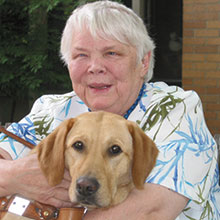 Photo credit: D. Johnston
Jean Little
Congratulations to Jean Little — nominated for the 8th time for the prestigious international Astrid Lindgren Memorial Award!

Jean Little, the daughter of medical missionaries, was born in Taiwan but has been living in Canada since the age of seven. Jean began writing as a child and has never stopped, in spite of the challenge of her blindness. Despite limited vision, she attended regular school and graduated in 1955 from the University of Toronto with an Honours Degree in English. She taught special needs children until 1962.

That year, her first book, Mine for Keeps, won the Little Brown Children's Book Award and since then Jean has written 50 books, including novels, picture books, autobiography, poetry and short stories. Among them are some of Canada's best-loved works for children, such as Dancing Through the Snow, Mama's Going to Buy You a Mockingbird, Listen for the Singing, Pippin the Christmas Pig and Wishes. Her books have been translated into a dozen languages and have won many awards, including a Canadian Library Association Book of the Year award (for her Dear Canada title, Orphan at My Door), the Ruth Schwartz Award, the Canada Council Literature Prize, The Vicky Metcalf Award and the Boston Globe Horn-Book Honor Book Award. She has just been nominated for the Astrid Lindgren Award for the eighth time.

Jean writes these award-winning titles by using a talking computer. "My computer reads back what I write letter by letter, or word by word, or whole sentences, or it will even read an entire file aloud if I tell it to. You just have to punch in the right command. It will also read the punctuation, the menus, e-mail letters, etc. It will read Googled things too. I usually have it reading out the letters as I type and then I get it to read back what I have done only in whole words. It is tricky! The most important thing is that it will read back to me what I write," she explains.

Jean lives in Guelph, Ontario, with her sister, great-nephew and a house full of dogs. In addition to all her awards and nominations, she has received six honorary degrees, is a member of the Order of Canada for her outstanding contribution to Canadian children's literature, and was she was recently presented with the Queen's Diamond Jubilee Medal.

In 2012, the fortieth anniversary of From Anna, one of Jean's most beloved books, she turned eighty and celebrated having written fifty books. The companion title Listen for the Singing was also re-issued recently.