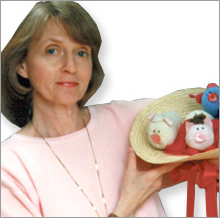 Phoebe Gilman
Phoebe Gilman is one of Canada's best-loved creators of children's books. She has written and illustrated such classics as The Balloon Tree, Something From Nothing, The Gypsy Princess and the Jillian Jiggs series.

Phoebe was born and raised in New York. Her mother passed on her love of reading to Phoebe and her brothers. As soon as they could print their names, they got their first library cards. When Phoebe read picture books, she would cover up the images when they didn't match what the words had painted in her head.

Phoebe was trained as an artist. She brought her love of art to others as well, going on to teach at the Ontario College of Art. Although she considered herself an artist first and foremost, she had a profound love of words.

How did Phoebe become an author? One day her daughter's balloon burst on a tree branch and Phoebe wished the tree would sprout balloons. It didn't, but her idea turned into her first book, The Balloon Tree. And how did Jillian Jiggs come to life? Phoebe actually got her idea from a Mother Goose nursery rhyme called "Gregory Griggs." It goes, "Gregory, Gregory, Gregory Griggs,/ Had twenty-seven different wigs…." After her first book, Phoebe went back to her portfolio and saw that she had done many samples using this nursery rhyme. She had a picture of a boy with a mop on his head who was turning everything into wigs. She thought he looked like a girl, so she decided to change him into one. Then she came up with a three-syllable girl's name, changed the letters, and Jillian Jiggs was born.

Phoebe Gilman passed away in 2002.