Kristy's Great Idea
Witness Kristy's eureka moment, when she gets the idea for a "Baby-Sitters Club" and enlists her best friends, shy Mary Anne and artistic Claudia, in an exciting new venture. But the Baby-Sitting business isn't the only thing absorbing their attention: Kristy is having a hard time accepting her stepdad-to-be, and the newest member of the gang, Stacey, seems to be hding a secret.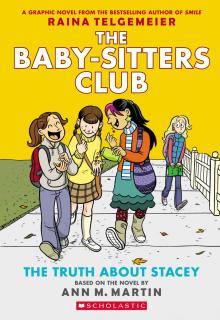 The Truth About Stacey
Poor Stacey. She's moved to a new town and she's still facing troubles. On top of that, she's having Baby-Sitting problems left and right, and her parents are no help. Luckily, Stacey has three new, true friends -- Kristy, Claudia, and Mary Anne. Together they're the BSC -- and they will deal with whatever's thrown their way...even if it's a rival Baby-Sitting Club!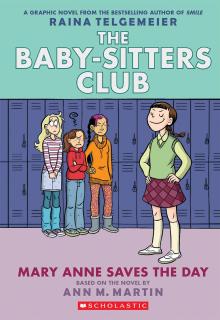 Mary Ann Saves the Day
When a terrible fight breaks out among the four Baby-Sitters Club friends, Mary Anne is left to her own devices. She has to sit by herself at lunch, make new friends, and deal with her overprotective father without advice from the BSC gang. But the worst part is when she faces a terrible baby-sitting predicament, and she can't find any help. Luckily, Mary Anne rises to the occasion.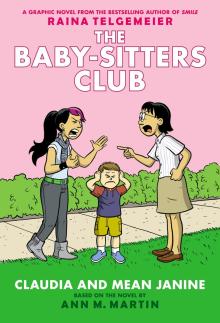 Claudia and Mean Janine
Claudia and her sister, Janine, may as well be from two different planets. Claudia pays more attention to her art than her grades. Janine studies nonstop to get straight A's. The girls are nothing alike, and they can't agree on anything. But when something terrible happens to their grandmother, Mimi, the two sisters discover they're more alike than they originally thought.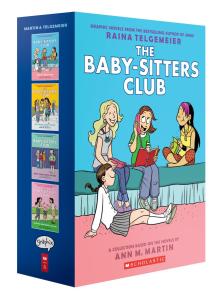 BSC Graphix #1-4 Box Set: Full-Colour Edition
A must-have collection of this bestselling series! Includes four full-colour books:

The Baby-Sitters Club Graphix #1: Kristy's Great Idea
The Baby-Sitters Club Graphix #2: The Truth About Stacey
The Baby-Sitters Club Graphix #3: Mary Anne Saves the Day
The Baby-Sitters Club Graphix #4: Claudia and Mean Janine