NEW!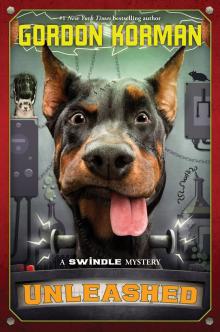 Unleashed
ISBN 9780545709378 Paperback | 5.5" x 8.25"
ISBN 9780545709354 Hardcover | 5.5" x 8.25"
ISBN 9780545709361 Ebook
Scholastic Canada Ltd. | 208 Pages | Ages 9 to 12
UNLEASHED: freed from restraint, running wild, not being held back by anyone or anything…
Luthor, a former attack dog, is supposed to be on his best behavior now that he's in the care of Savannah, a girl who's easily a dog's best friend. But every time a certain truck passes by Savannah's house, Luthor goes into attack mode — and chaos follows.
Meanwhile, Griffin Bing is locked in the fight of his life with his archenemy, Darren Vader. Both are trying to win an invention contest — and will stop at nothing to be victorious.
Like a Doberman with a mission in mind, there's no holding this story back..
Read an excerpt