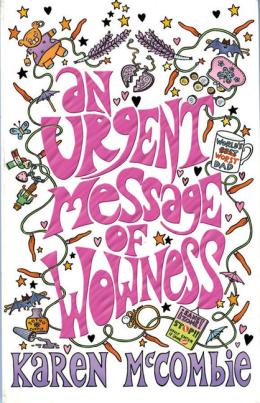 An Urgent Message of Wowness
Scholastic Canada Ltd | ISBN 9780545993289 Paperback
208 Pages | 5" x 7.74" | Ages 9 to 14

Thirteen-year-old Heather has a perfect family. She thinks she is the only one who is slightly odd, with some quirky habits. Until … Her dentist dad comes home from work one day and announces that he is leaving them. This leads her perfectly elegant mother to "hibernate" in her bedroom for three weeks (only to emerge as a salsa-dancing rocker chick); her good-looking, brilliant, sports-playing 17-year-old brother to reveal his secret life as an eyelinerwearing indie band manager and her perfectly cute six-year-old little sister to turn feral, coached by the "Goth" who has moved in to her brother's bedroom. And suddenly, it's Heather who is the normal one. This is an honest, but bright and funny look at a family destroyed in a single moment. Like Angus, Thongs, and Full-Frontal Snogging — only younger, lighter and funnier — Karen McCombie's debut in the Canadian market will place her alongside Brit lit queen as Louise Rennison.