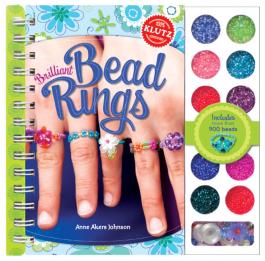 Klutz / Scholastic Canada Ltd.
ISBN: 9780545346177
Ages 10 & Up
Brilliant Bead Rings
Make the cutest, sparkliest, brilliantest bead rings ever
Back in 1999, we published a little book called Bead Rings. At the time, we considered it a fairly modest venture into the world of beading, but it turned out to be a dazzling success. With close to 800,000 copies sold and trend setting bead rings popping up all over the place, it's clear this book deserves an update. And this time we're turning up the sparkle.
The basic idea remains the same: String shimmering beads on flexible wire to form totally durable, totally adorable, totally fashionable little rings.
But now we've made the book bigger and filled it with fresh, new photography. We updated the seed beads with a bright, poppy palette. We added custom, jewel-toned specialty beads. And we came up with seven sparkly new ring designs, each one easy to make and totally cute, as determined by a board of certified stylish girls.
Finally, realizing we'd created something altogether new, we gave the book a new name. Introducing Brilliant Bead Rings — the only book that comes with everything you need to make those chic little rings that are showing up absolutely everywhere. Prepare to be dazzled. Again.

Click here for more