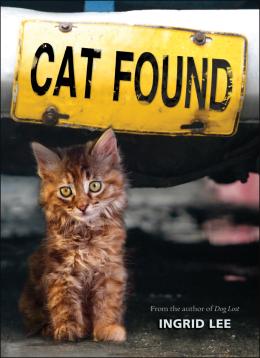 Read an excerpt
Awards
Short-listed, OLA Silver Birch Award, Fiction, 2013
Commended, Best Books for Kids and Teens, Canadian Children's Book Centre, 2012
Cat Found
Scholastic Inc | ISBN 9780545317702 Hardcover
176 Pages | 5.76" x 7.83" | Ages 8 to 12
A heartwarming tale about the importance of caring for strays.
In Billy's small town, stray cats are running wild, and there's growing pressure to get rid of them. The school bullies don't even hesitate to throw rocks at the poor creatures! So when Billy finds a wounded, starving kitten crouched in an alleyway, he has to be extra-careful to keep her hidden while he nurses her back to health.
However precious little Conga is to him, he knows his dad would take her away if he discovered her. Can Billy and his friends confront the cat abusers, convince the town of the importance of caring for abandoned animals, and find a safe haven for strays?
A new, soon-to-be-classic animal story by the author of Dog Lost.
Raves & reviews:
Praise for Dog Lost
"Much more than a breathless page-turner. It's a brutally honest novel depicting the world of dogfighting in a wicked light but tempering any scenes of cruelty with an entire community of positive characters. And Lee brings together her winning, motley cast, human and animal, for a wonderfully heart-rousing ending. I loved it." — Ann M. Martin, author of A Dog's Life
"A tough book, a tender book, and one I shan't forget." — Michael Morpurgo, author of War Horse
"A moving, fast-paced tale [that] will appeal to fans of Shiloh." — Kirkus Reviews