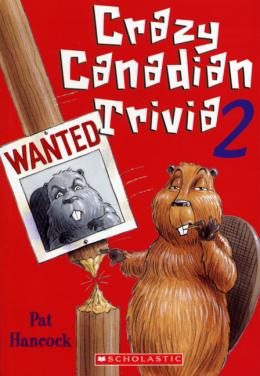 Awards
Commended, Best Books for Kids and Teens, Canadian Children's Book Centre, 2009
Commended, Canadian Children's Book Centre, Our Choice, 2005
Crazy Canadian Trivia 2
Scholastic Canada Ltd | ISBN 9780439969314 Paperback
128 Pages | 5.24" x 7.62" | Ages 9 to 12

It's wild, it's wacky, it's the sequel to the best-selling Crazy Canadian Trivia! Did you know that Saskatchewan is home to the world's largest coprolite (piece of dinosaur poop) in the world? Or that a Newfoundland dog saved the French emperor Napoleon from drowning in 1814? Here's a light-hearted look at more than one hundred interesting facts,wacky world records and odd customs from across Canada.With over 50 upbeat and humorous illustrations and photographs, this book is sure to appeal to fact fanatics everywhere! Who knew we lived in such a facts-inating part of the world!
Raves & reviews:
Praise for Crazy Canadian Trivia:
"It's nice to see a fun and informative look at all the things that make Canada unique, if just a little bit weird." —CM Magazine.
"Readers who delight in uncovering odd and interesting information, will enjoy Crazy for Canadian Trivia." —St. Catherines Standard.