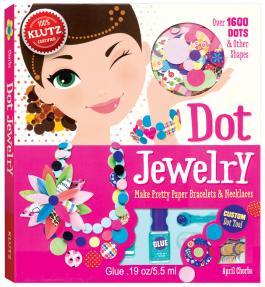 Klutz / Scholastic Canada Ltd.
ISBN: 9780545492782
Ages 8 & Up
Dot Jewelry: Make Pretty Paper Bracelets & Necklaces
Be a jewelry designer with our hot spots.
At Klutz, we love turning quirky supplies into real, wearable jewelry. Safety pins, bottle caps, shrink plastic - it's amazing what beauty lurks in unexpected materials. But our latest inspiration comes from the very stuff of our books: paper. Pretty, pretty paper.
Dot Jewelry comes with over 1,500 pre-cut paper pieces in a rainbow of luscious colors and coordinating patterns. There are a few shiny sequins and cute accent shapes - things like hearts and stars - but most of the pieces are your basic beautiful paper dots. Simply glue the dots onto durable clear cord. The result? One-of-a-kind jewelry that bubbles with pure graphic happiness. Like cupcake sprinkles you can wear.
The book itself is filled with step-by-step instructions for making everything from simple one-strand bracelets to stunning statement necklaces. Two fold-out work surfaces make it easy to create both straight and curved strands, as well as complex multistrand creations. And our exclusive 2-in-1 tool picks up dots and crimps the cord ends securely to finish each piece with professional panache. You have to admit, dot's pretty cool.

Click here for more