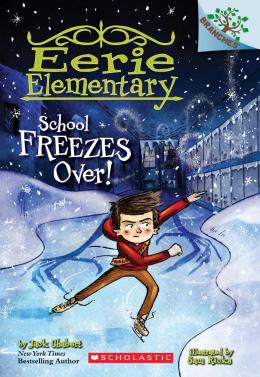 Eerie Elementary #5: School Freezes Over! A Branches Book
Scholastic Inc | ISBN 9780545873734 Paperback
96 Pages | 5.24" x 7.63" | Ages 6 to 8
Scholastic Inc | ISBN 9780545873765 Ebook
96 Pages | Ages 6 to 8
Pick a book. Grow a Reader!
It's getting cold at Eerie Elementary! A terrible snow storm hits the school, and the students are trapped. Soon, the hungry school begins to freeze from the inside out! Icicles drip from the ceiling and snow piles fill the hallways! Then Antonio turns into an ice statue —making him a yummy popsicle for the school to dine on! Can Sam and Lucy turn up the heat in time to save the students?
This series is part of Scholastic's early chapter book line, Branches, aimed at newly independent readers. With easy-to-read text, high-interest content, fast-paced plots, and illustrations on every page, these books will boost reading confidence and stamina. Branches books help readers grow!
Raves & reviews:
Praise for Eerie Elementary #1:
" Give this early chapter book to readers who want something scary but aren't ready for the Goosebumps or Fear Street series." —School Library Journal
" Dynamic, cartoonish illustrations amp up the action....Readers who relish the action of Dav Pilkey's Ricky Ricotta series…may want to enroll at Eerie Elementary." —Booklist
" Chabert hits just the right horror note for transitional readers, with thrills that include a dash of absurd humor and fall tactfully short of being truly frightening." —Bulletin of the Center for Children's Books