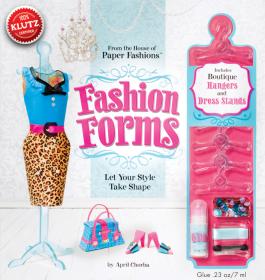 Klutz / Scholastic Canada Ltd.
ISBN: 9780545449359
Ages 8 & Up
Fashion Forms
Create super chic, three-dimensional fashions — no sewing required!
Those clever style mavens at the house of Paper Fashions are taking fashion fun to a whole new dimension. With Fashion Forms, kids create fully formed outfits that are amazing from any angle. These stylish looks go beyond flat paper fashions — think chic paper sculptures!
The book comes with innovative plastic guides that you use like real sewing patterns to trace and cut the included double-sided designer papers. The resulting paper shapes can be easily folded, wrapped, rolled, and creased into indispensable fashion pieces: tops, skirts, coats, and more. Inspirational photos, step-by-step instructions, and how-to illustrations make assembly simple — even showing exactly where to put each drop of glue for the smoothest seams.
Combine the pieces to create outfits in your own style, whether classic, romantic, or trendy. Then use the included ribbons and sequins to embellish your creations. Add rows of tissue paper ruffles or a flower corsage. Complete the look by constructing coordinating purses and even adorable little shoes. Finally, display your finished fashion line on the included custom hangers and freestanding dress stands. Gorgeous!Click here for more