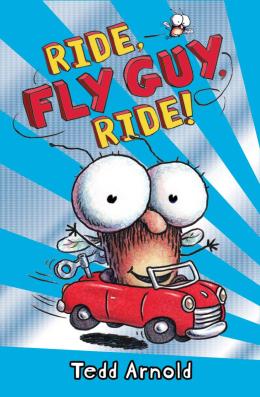 Fly Guy #11: Ride, Fly Guy, Ride!
Scholastic Inc | ISBN 9780545222761 Hardcover
32 Pages | 6.05" x 9.02" | Ages 4 to 8
The New York Times bestselling Fly Guy series goes on an action-packed adventure by boat, train, plane, and beyond!
Dad takes Fly Guy and Buzz for a car ride, but in a funny and wacky turn of events, Fly Guy is blown out of the car window and into a passing truck, where he lands in the driver's mouth! The driver spits him out, and Fly Guy tumbles onto a boat. Fly Guy then winds up on a circus train with an elephant and then an airplane...and he just misses taking off with a rocket ship!
This easy-to-read adventure concludes with Buzz, Dad, and Fly Guy returning home on a bike. Fly Guy loves RIDEZZZ!
Raves & reviews:
Praise for Hi! Fly Guy
"Readers drawn by the flashy foil cover will stick around to applaud this unusually capable critter." - Publishers Weekly
Praise for Super Fly Guy
"A fly by delight." - Booklist
Praise for Fly High, Fly Guy!
"A shoo-in for kids who prefer their beginning readers funny and action-packed." - Kirkus Reviews