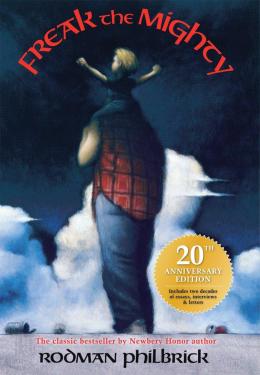 Freak the Mighty: 20th Anniversary Edition
Scholastic Inc | ISBN 9780545566452 Hardcover
208 Pages | 5.71" x 8.53" | Ages 8 to 12
Celebrate the 20th anniversary of this unforgettable classic.
It has been twenty years — and more than two million copies, eight foreign editions, and a popular Miramax feature film — since the world was introduced to this powerful story about a unique friendship between a troubled, oversized boy and the tiny, physically challenged genius who proves that courage comes in all sizes. This simple yet timeless story explores many themes, including the way young people bully one another — a topic of great importance in today's schools and social circles. Now we have a new edition to celebrate this poignant novel's impact on young readers all over the world.
With thirty-two pages of new content to explore, this edition offers: an extensive Q&A with the Newbery Honour-winning author; letters and notes the author has exchanged with fans; the author's exclusive commentary on the making of the film, The Mighty, and the effect the book has had on a generation of children, parents, and teachers; and the original text.
A perfect addition to any bookshelf!
Raves & reviews:
Praise for Freak the Mighty
A School Library Journal Best Book for Young Adults
A YALSA Best Book for Young Adults
*"A wonderful story of triumph over imperfection, shame, and loss . . . different and very special." —School Library Journal, starred review
*"Easily read but compelling: an intriguing and unusual story." —Kirkus, starred review