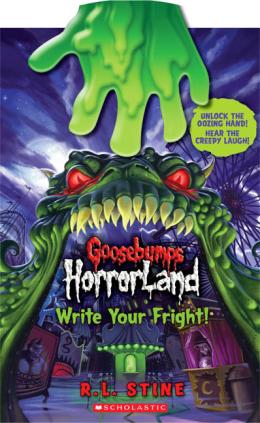 Goosebumps Horrorland: Write Your Fright
Scholastic Inc | ISBN 9780545332958 Hardcover
64 Pages | Ages 8 to 12

This fantastic new book contains six of the spookiest chapters from titles in the Goosebumps HorrorLand series, including Revenge of the Living Dummy, Monster Blood for Breakfast!, The Scream of the Haunted Mask,/i>, My Friends Call Me Monster, Welcome to Camp Slither, and Escape from HorrorLand. Each of these chapters provides lined blank pages for to allow fans, for the first time ever, to decide (and write!) the outcome of these cliffhangers.

The book also contains HorrorLand facts and jokes from everyone's favourite villain, Slappy. AND for added fun, the front cover will include a creepy hand clasp, with a sound chip of frightening laughter every time someone opens the book! Snoopers beware... you may have accidentally bought yourself a ticket to HorrorLand!