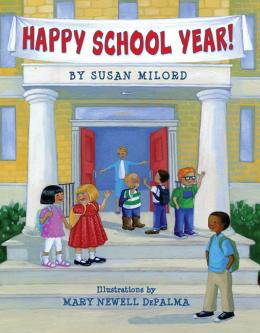 Happy School Year!
Scholastic Inc | ISBN 9780439882804 Hardcover
40 Pages | 8.28" x 10.26" | Ages 4 to 8

All over town, children are waking up...choosing clothes...eating breakfast...getting ready for the first day of school! But for some kids, the day is more scary than special - cause for hiding under the covers rather than leaping out of bed. ItÂ's only after they arrive at school and discover the wonderful surprise waiting there that they know: ItÂ's going to be a HAPPY SCHOOL YEAR! Inspired by First Day of School events held in communities nationwide, Happy School Year! speaks to both the real fears and the exciting possibilities of every childÂ's first day.