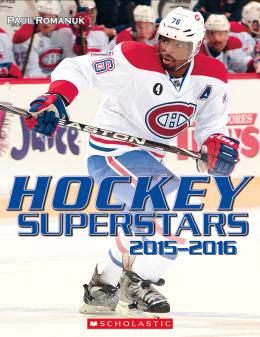 Read an excerpt
Available in French
Awards
Commended, Best Books for Kids and Teens, Canadian Children's Book Centre, 2016
Hockey Superstars 2015-2016
Scholastic Canada Ltd | ISBN 9781443146548 Paperback
48 Pages | 8.39" x 10.88" | Ages 5 & Up
Old favourites meet rising stars in in this year's Hockey Superstars!
From Sidney Crosby to Alex Ovechkin to Carey Price, learn everything there is to know about seventeen of the NHL's biggest superstars through full-colour photos, biographies, stats, and quotes.
Plus: show off your own hockey expertise with interactive fill-in pages where you can choose and track favourite players, predict the season, practice referee signals and count down to the Cup!
It's a must-have for any hockey fan as they head into the next exciting hockey season!
Players included are:
Frederik Andersen, Anaheim, G
Dustin Byfuglien, Winnipeg, D/RW
Sidney Crosby, Pittsburgh, C
Johnny Gaudreau, Calgary, LW
Ryan Getzlaf, Anaheim, C
Tyler Johnson, Tampa Bay, C
Erik Karlsson, Ottawa, D
Alex Ovechkin, Washington, RW
Carey Price, Montreal, G
Henrik Sedin, Vancouver, C
Tyler Seguin, Dallas, C
Steven Stamkos, Tampa Bay, C
P.K Subban, Montreal, D
John Tavares, NY Islanders, C
Jakub Voracek, Philadelphia, RW
Shea Weber, Nashville, D