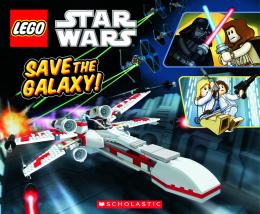 LEGO® Star Wars: Save the Galaxy!
Scholastic Inc | ISBN 9780545301015 Board book
7 Pages | 9.5" x 11.47" | Ages 5 & Up
May the Force be with our youngest readers!
Our heroes must evade Stormtroopers, outwit Darth Vader, and steal plans to the Death Star. With a little luckand a lot of Legosthey might even manage to save the galaxy! With more than 40 deluxe flaps to lift, readers can explore the Death Star, a Jawa Sandcrawler, the Tantive IV, the Cantina, and the Millennium Falcon!