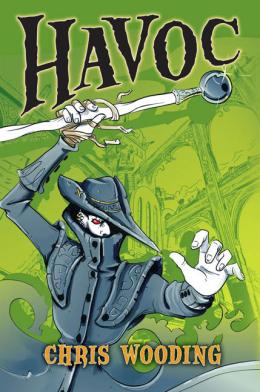 Malice #2: Havoc (Hardcover)
Scholastic Inc | ISBN 9780545160452 Hardcover
400 Pages | 5.79" x 8.53" | Ages 9 to 12

Getting into the sinister comic-book world of Malice is just the beginning. Getting out of it is much, much harder-as is surviving while you make your attempt.

Part novel, part comic book, all thrill-welcome to Malice.
Raves & reviews:
Praise for Malice
"The creative formatting, fast pace and classic horror elements will surely satisfy any teen who likes a good scare." -Bulletin of the Center for Children's Books
"The fast-paced storyline and whimsically dangerous setting will capture plenty of attention. Even more eye-catching are the interspersed sections where comic book panels replace textual narrative (as well as the three-dimensional cover), making this a memorable multimedia experience." -Publishers Weekly
"I'm going to go out on a limb here, but it seems that the land of Tolkien and Gaiman has brought us another winner... Malice is well worth a read. Try it. It's not the simple kiddie fare you expect. You might just enjoy it. I, for one, await the next book eagerly." -Fantasy Literature