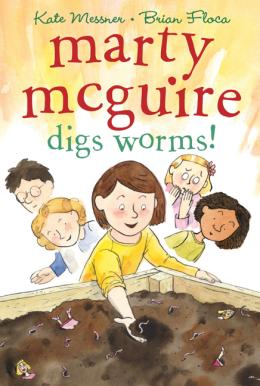 Marty McGuire #2: Marty McGuire Digs Worms!
Scholastic Inc | ISBN 9780545142458 Hardcover
176 Pages | 5.75" x 8.57" | Ages 4 to 8
Scholastic Inc | ISBN 9780545142472 Paperback
176 Pages | 5.25" x 7.56" | Ages 4 to 8
A funny, accessible chapter-book series about an irrepressible third grader.
Marty McGuire's third-grade class has a special assignment: Save the Earth! Even more exciting, the best project wins a special award. Marty's pretty sure her classmates' ideas won't stand a chance against her plan to turn the garbage from the school cafeteria into fertilizer. All she needs is a little help from her teammate and best friend, Annie-and the worms in her Grandma's garden.
But it turns out that worms are awfully slow eaters. And when the critters escape, the whole class starts grumbling, including Annie. Can Marty save the Earth without losing her best friend?
Raves & reviews:
Praise for Marty McGuire
"Messner gets all the details of third grade right [and] Floca's black-and-white sketches are filled with movement and emotion...Believable and endearing characters in a realistic elementary-school setting will be just the thing for fans of Clementine and Ramona." - Kirkus Reviews