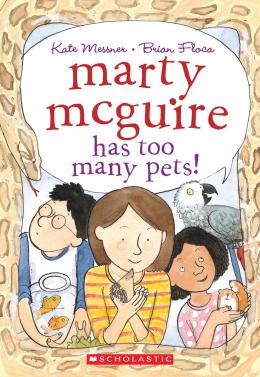 Marty McGuire #3: Marty McGuire has Too Many Pets!
Scholastic Inc | ISBN 9780545535601 Paperback
176 Pages | 5.25" x 7.5" | Ages 4 to 8
The next installment in a fresh, funny, and accessible chapter book series about an irrepressible third grader named Marty McGuire.

After visiting a sanctuary for retired lab chimpanzees, Marty wants to follow in the footsteps of her idol Jane Goodall and help with their care. But "adopting a chimp" is expensive, so Marty and her pals hatch a plan to raise money by holding a talent show at school and opening a pet-sitting business in Marty's basement. While they're juggling a lazy boa constrictor, an anxious hamster, a cranky hedgehog, three hyperactive goldfish, and a potty-mouthed parrot, some of the pets get loose, and chaos ensues!