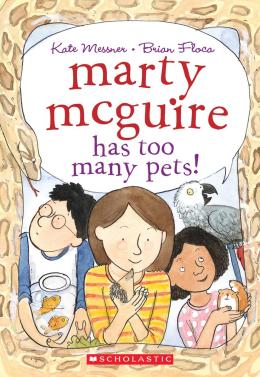 Marty Mcguire Has Too Many Pets!
Scholastic Inc | ISBN 9780545589406 Ebook
176 Pages | Ages 4 to 8
A fresh, funny, and accessible chapter book series about an irrepressible third grader.
After visiting a sanctuary for retired lab chimpanzees, Marty wants to follow in the footsteps of her idol Jane Goodall and help with their care. But "adopting a chimp" is expensive, so Marty and her pals hatch a plan to raise money by holding a talent show at school and opening a pet-sitting business in Marty's basement. While they're juggling a lazy boa constrictor, an anxious hamster, a cranky hedgehog, three hyperactive goldfish, and a potty-mouthed parrot, some of the pets get loose, and chaos ensues!
Raves & reviews:
Praise for Marty Mcguire Has Too Many Pets!:
"Messner makes the most of Marty's story with a nicely differentiated cast of empathetic characters and plenty of dramatic range. The line-and-gray-wash illustrations by Caldecott Medal-winning artist Floca capture moments of anxiety, despair, and happiness with equal grace." —Booklist
"Clear, crisp writing, elementary vocabulary, and a large font make the book a quick read and help ease the way for young chapter-book readers." —Bulletin of the Center for Book Reviews