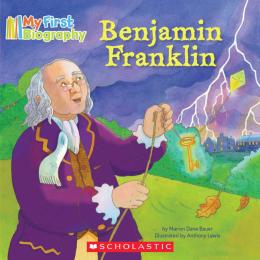 My First Biography: Benjamin Franklin
Scholastic Inc | ISBN 9780545232562 Paperback
32 Pages | 8.07" x 8" | Ages 4 to 8

Benjamin Franklin was curious about the world around him. He had a wide and varied interests that led him to become a printer, a writer, an investor, a statesman, and eventually on of the fathers of our nation.

With simple, lyrical text and bold, kid-friendly illustrations, this book introduces Benjamin Franklin to the youngest readers and inspires them to learn about the world.