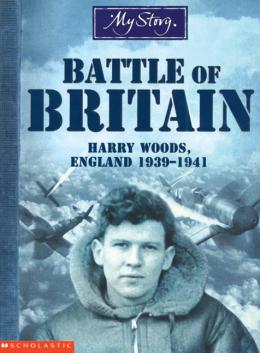 My Story: The Battle of Britain: Harry Woods, England 1939-1941
Scholastic Canada Ltd | ISBN 9780439938815 Paperback
144 Pages | 5.05" x 6.98" | Ages 9 to 12
Harry Woods joins the RAF during WWII, battling the Luftwaffe during the Battle of Britain. England, 1941.
Sometimes I can't remember a time when I didn't have the roar of engines or rattle of machine-guns ringing in my ears. Sometimes it feels as though I've been a fighter pilot all my life that I had no life before the RAF, before the War, before the Battle of Britain. But I did. Of course I did. Once I was just Harry Woods, a kid like any other kid. And I suppose that's when my story really begins...
Harry joins the RAF to protect his country, only to be called a coward by those who do not understand the battles raging in the air above. He loses friends and nearly loses his life when his plane goes down in the Channel.