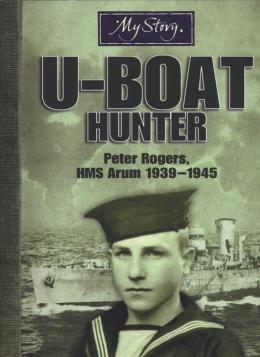 My Story: U-Boat Hunter: Peter Rogers, HMS Arum 1939-1945
Scholastic Canada Ltd | ISBN 9780439937528 Paperback
176 Pages | 5.04" x 7.01" | Ages 9 to 12

In the My Story series, readers are taken into the personal world of teenage boys facing adversity. These extensively researched novels are written in first-person format and set in different periods of history.

Without merchant ships continuing to bring supplies to Britain during WWII, Germany's stranglehold on the island would eventually defeat the Allies. Peter Rogers, son of a sailor whose own ship has been torpedoed off the coast of Ireland, is called up to join the navy. Peter's skills get him the post of signalman on the Arum.

He's there when German submarines sink merchant ships and the boats escorting them, and he finally has the satisfaction of helping sink the U-boat captained by the notorious German officer Von Schliegen one that has sunk many Allied ships, including non-military ones, and even fired at lifeboats holding survivors.