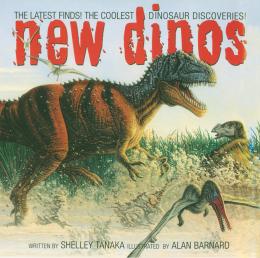 New Dinos
Scholastic Canada Ltd | ISBN 9780439968966 Paperback
48 Pages | 10" x 10" | Ages 7 to 10

This exciting new book for young dinosaur fans provides the latest information about the newest dino discoveries from around the world – including the recently uncovered site of a real-life Jurassic Park. From what they looked like to what they smelled like, New Dinos reveals amazing new discoveries made using the latest technology. Dinosaurs are exposed as sophisticated creatures that hunted in packs, nurtured their young and occupied well-established niches in the pre-historic ecosystem. What reader wouldn't be fascinated to learn the Tyrannosaurus Rex killed his prey not with his teeth but with his breath?
Raves & reviews:
"Highly Recommended." (CM Magazine) "Vivid, dramatic illustrations are a sure draw to an already hot topic…Of course you'll need this colorful eye catcher [in your collection]. It won't gather dust." (School Library Journal)