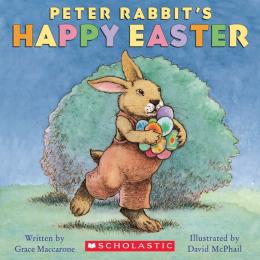 Peter Rabbit's Happy Easter
Scholastic Inc | ISBN 9780439791397 Hardcover
32 Pages | 8.04" x 8.02" | Ages 3 to 5

Peter Rabbit gathers excess eggs from his neighbors to give to Mother Rabbit, but she tells him he must return the eggs. When Peter accidentally knocks over several jars of paint, the eggs are splashed with all the colors of the rainbow. And when Peter returns the eggs, the children of the neighborhood are delighted. Inventing a new tradition, Peter Rabbit becomes the Easter Bunny!