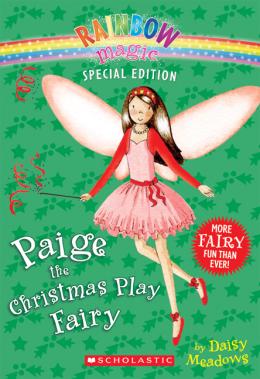 Rainbow Magic Special Edition: Paige the Christmas Play Fairy
Scholastic Inc | ISBN 9780545221771 Paperback
192 Pages | 5.26" x 7.55" | Ages 6 to 9

It's Christmas in Tippington, and this year, Rachel is dancing in the annual town Christmas play! She can't wait for her moment in the spotlight. But when Jack Frost's goblins steal the three magical shoes that make Christmas plays everywhere sparkle, it looks like it's curtains for this performance.

The show must go on, if Paige the Christmas Play Fairy has anything to say about it! Can Rachel and Kirsty help save the big holiday play, or will Jack Frost take the "merry" out of "Merry Christmas"?