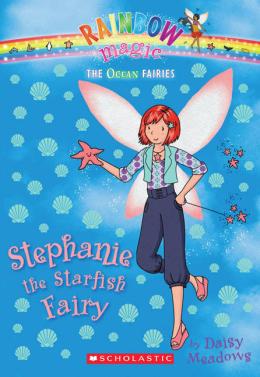 Rainbow Magic: The Ocean Fairies #5: Stephanie the Starfish Fairy
Scholastic Inc | ISBN 9780545270403 Paperback
80 Pages | 5.27" x 7.56" | Ages 6 to 9
With more than 6 million books in print Rainbow Magic is sparkling success!
The Ocean Fairies keep all the sea creatures safe and happy-until their magic goes missing! The enchanted conch shell has been split into seven pieces and scattered throughout the oceans. King Oberon and Queen Titania have sent seven magical sea creatures to guard the shells. Now it's up to the Ocean Fairies to find them, with Rachel and Kirsty's help!
#5: Stephanie the Starfish Fairy
Kirsty, Rachel, and Stephanie the Starfish Fairy need to find Spike the starfish. But to do that, they'll need to chase the goblins around some slippery tide pools-in the dark!