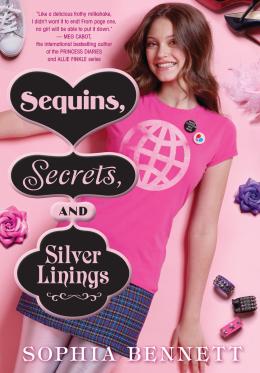 Sequins, Secrets and Silver Linings
Scholastic Inc | ISBN 9780545242417 Hardcover
304 Pages | 5.72" x 8.28" | Ages 12 to 16

Nonie's a freak for fashion. Bleeding-heart Edie wants to green the planet. And starter-starlet Jenny just landed a small part in a BIG Hollywood blockbuster. But when these trendy London besties meet Crow, a Ugandan refugee girl who just happens to be an amazing designer, their worldview gets an extreme makeover. As they learn about the serious situation in Africa, the three decide to pool their talents to call attention to the crisis. One of Crow's designs on the red carpet at the Oscars— quelle chic way to raise awareness! Now... how to "make it work"?!
Raves & reviews:
Praise for Sequins, Secrets and Silver Linings:
"A rags-to-riches tale... adopted by readers of all ages." —BritishVogue.com
"Promises to win the hearts of stylistas of all ages. Feel good and fashion-fabulous? That's a perfect prezzie right there." —MarieClaire.co.uk
"We suspect it will be finding its way into many a stylish handbag." —ElleUK.com
"Great fun. Girls will love it!" —Jacqueline Wilson, author of How to Survive Summer Camp
"Elegant and funny and has real narrative verve." —David Almond, author of Skellig