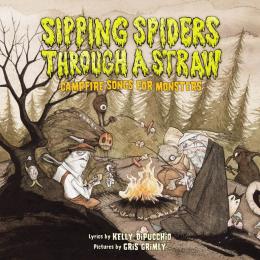 Sipping Spiders Through a Straw: Campfire Songs for Monsters
Scholastic Inc | ISBN 9780439584012 Hardcover
40 Pages | 10.33" x 10.29" | Ages 7 to 10

Little monsters everywhere will love singing along to their favourite campfire tunes in this howlingly fun collection with a gross and gory twist. Classic songs have been altered for optimal gross-out effect by the ghoulish Kelly DiPucchio and illustrated by the Master of Creep, Gris Grimly. Songs include "99 Bottles of Blood on the Wall," "For He's a Stinky Old Fellow," and the classic "Do Your Guts Hang Low?" So gather your creepy crawly friends and get ready to slither and slink and howl and stink!