Star Wars Thumb Doodles: The Epic Saga at Your Fingertips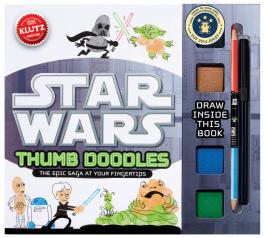 Klutz / Scholastic Canada Ltd.
ISBN: 9780545492843
Ages 8 & Up
Star Wars Thumb Doodles: The Epic Saga at Your Fingertips
For artistically challenged Star Wars fans, a new hope.
A Canadian Toy Testing Council 3-Star Award winner!
A long time ago, in a galaxy far, far away (actually, a few years ago, here at Klutz), we discovered the unlimited artistic potential of the humble thumb. If you can make a thumbprint, you can draw anything on Earth. And now, anything in space.
With Star Wars Thumb Doodles, the power to re-create the universe's most epic saga is now at your fingertips. Learn to make thumbprint versions of your favorite characters — clone troopers and battle droids, Ewoks and Wookiees, Jedi and Jabba the Hutt. Star Wars fans will love re-creating key moments from the movies and creating scenes of their own, like the ultimate battle between Thumb Yoda and Thumb Darth Vader.
Everything any Star Wars fan needs to achieve artistic greatness is here, including four ink pads, a black marker, and a dual-tipped coloured pencil for lightsaber highlights. Simple step-by-steps share the page with plenty of blank space, so you can make your thumbprint art right inside the book. Use the Force if you like, but gentle pressure works just as well.Click here for more