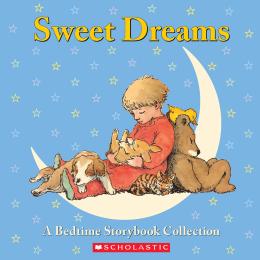 Sweet Dreams: A Bedtime Storybook Collection
Scholastic Inc | ISBN 9780439934039 Hardcover
96 Pages | 9.18" x 9.25" | Ages 3 to 5
A cozy collection of favourite bedtime stories!
This sweet treasury of bedtime stories will lull any child to sleep with text and adorable art from an assortment of best-selling books.
Including four picture book favourites — If You Were My Bunny; Thank You Prayer; Good Night, Sleep Tight, Little Bunnies; and Wynken, Blynken, and Nod — this keepsake format at a new, lower price is both readable and huggable!
Includes works by KATE MCMULLAN, DAVID MCPHAIL, CAROLINE JAYNE CHURCH, EILEEN SPINELLI, and MELISSA SWEET.