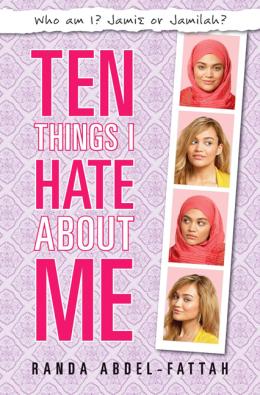 Ten Things I Hate About Me
Scholastic Inc | ISBN 9780545050562 Paperback
304 Pages | 5.26" x 8.02" | Ages 12 & Up

Scholastic Inc | ISBN 9780545050555 Hardcover
304 Pages | 5.73" x 8.48" | Ages 12 & Up

Jamie just wants to fit in. She doesn't want to be seen as a stereotypical Muslim girl named Jamilah, so she does everything possible to hide that part of herself, even if it means keeping her friends at a distance. But when the cutest boy in school asks her out and her friends start to wonder about her life outside of school, suddenly her secrets are threatened. Jamie has to figure out how to be both Jamie and Jamilah before she loses everything...
Raves & reviews:
"Written with insight, humor and sensitivity, Abdel-Fattah introduces a winning Muslim-Australian heroine who discovers that 'honesty is liberating.'" -Kirkus Reviews "[T]he author brings a welcome sense of humor to Jamilah's insights about her culture, and she is equally adept at more delicate scenes. . . ." --PUBLISHERS WEEKLY