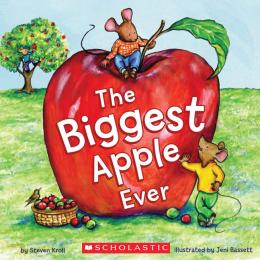 The Biggest Apple Ever
Scholastic Inc | ISBN 9780545248365 Paperback
32 Pages | 8.02" x 8" | Ages 4 to 8

As another year at Mouseville School begins, the students will be learning all about apples—starting with a contest to find the biggest one ever! As usual, Clayton the town mouse and Desmond the country mouse are each eyeing the prize. But when they can't find the biggest apple, even after they decide to work together, will they just give up? Or do they have another trick up their sleeves?

The newest installment of this beloved, bestselling series continues to show the benefits of collaboratioin and friendship in a story centered around the fall season.