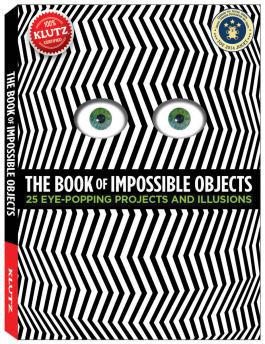 Klutz / Scholastic Canada Ltd.
ISBN: 9780545496476
Ages 8 & Up
The Book of Impossible Objects: 25 Eye-Popping Projects to Make, See & Do
A bunch of scientifically proven ways to blow your mind.
A Canadian Toy Testing Council 3-Star Award winner!
The world is weirder than you think. Want proof? Look no further than this book — which actually looks back at you. In fact, its eyes follow you across the room. And there's more weirdness inside.
The Book of Impossible Objects comes with all the plastic pieces, paper parts, and special pages you need to experience 25 impossible things. Spin the wobblestone and watch it reverse direction all by itself. Wander the paper labyrinth, an ever-changing folded maze. Use the Mirror Monster Maker to give yourself three eyes. Follow a road sign that points in a different direction every time you check it.
These objects all work like magic, but there are no tricks here. All this weirdness has a solid scientific basis — from the mathematically amazing Möbius strip (a band of paper with only one side), to cardstock acrobats with astoundingly great balance, to a spinning top that changes colors before your eyes. The why behind each wow is explained with crystal clarity by the award-winning team of Pat Murphy and the scientists of Klutz Labs. Which makes for a book that's not only weird — it's wonderful.Click here for more