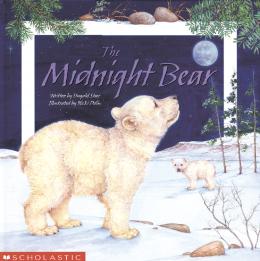 The Midnight Bear
Scholastic Inc | ISBN 9780439989558 Hardcover
26 Pages | 10.23" x 10.24" | Ages 4 to 7

In the middle of a dark Arctic winter's night, Nanuk, a little polar bear, is born. Soon the days get longer, and it's time for Nanuk, her mother, and her brother to leave their cozy den. Nanuk skips out eagerly, longing to see and feel the sun, but it hasn't risen yet. Nanuk asks the snowshoe hare, the Arctic fox, the lemmings, the owls, the Arctic tern, the musk oxen, the walruses, and the beluga whale about the sun, but how delighted she is when she finally sees it herself! Young children and nature lovers will delight in this simple story about a young polar bear's day from the producers of the very popular Snow Bear. Beautiful, embossed artwork combined with simple lyrical text assure this cheery picture book a place in every child's heart. Also included at the back of the book are scientific facts about the animals from the Arctic.