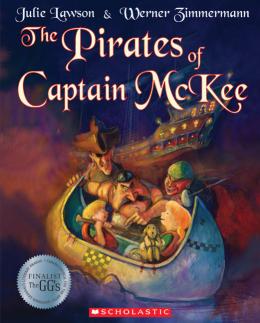 Read an excerpt
Awards
Commended, Best Books for Kids and Teens, Canadian Children's Book Centre, 2009
The Pirates of Captain McKee
Scholastic Canada Ltd | ISBN 9780545997669 Paperback
32 Pages | 8.03" x 10.02" | Ages 3 to 5
Captain McKee's canoe has a mind of its own, and takes its passengers on a rollicking pirate adventure!
The narrator of this whimsical rhyming story sets off in an enchanted canoe with his brother and O'Malley — a stuffed kangaroo — and meets up with a band of fearsome pirates. But the swashbucklers turn out to be friendly after all, and they all share a feast of hot dogs and "sizzled mallows," before the canoe speeds the adventurers safely home.
The Pirates of Captain McKee was previously published under the title Whatever You Do, Don't Go Near That Canoe!, a 1996 Governor General Award winner for its illustrations.