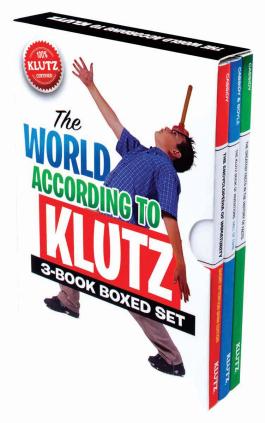 Klutz / Scholastic Canada Ltd.
ISBN: 9780545612135
Ages 8 & Up
The World According to Klutz
A reference library for the well-rounded goof
To help defend today's youth against the painful consequences of growing up, we created a three-book collection that captures our ever-so-slightly subversive streak. Pure, unfiltered Klutz, in a convenient paperback format. The three books are:
The Encyclopedia of Immaturity — Short Attention Span Edition: We present the best and most essential life skills and activities from our best-selling two volume set of Encyclopedias. How to Kick a Toilet Plunger Field Goal, How to Fake Sneeze, How to Make Your Dog Yawn. They're all here, painstakingly explicated and illuminated with full-colour photographs, illustrations, and diagrams.
The Klutz Book of Inventions — Hall of Fame Edition: The most mind-blowing contraptions culled from our immature take on engineering. Wipe-ready Sleenex Shirt Cuffs! Fresh off the top of your head, it's the Orange Juice Squeezer Helmet! And don't overlook the sassy-yet-safe elegance of High Heel Training Wheels. See what happens when brilliant meets stupid head on. And they both win.
The Greatest Facts in the History of Facts: An all-new book of mind-blowing realities, guaranteed to provide a lifetime of conversation starters. Wild true tales of Mike the Chicken, who lived for two years after he lost his head; Roy Sullivan, the man who was struck by lightning seven times; and the shocking fact that turtles can actually breathe out of their butts. You read that right, their butts. It's the truth's greatest hits, according to us.Click here for more