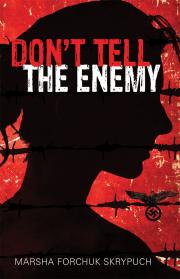 Don't Tell the Enemy
ISBN 9781443128391 Paperback
ISBN 9781443128407 Ebook
192 Pages | 5.04" x 7.77" | Ages 10 to 14
See an excerpt

With the closing of the ghetto gate, the Commandant decreed that any Jew found outside the ghetto without permission would be shot on sight. Slavs who gave Jews food would be shot. And as if that wsn't enough of a deterrent, the Nazis posted signs all over town claiming that contact with Jews could spread disease.
War is raging around Krystia's town. Her uncle and cousin have already died at the hands of the Soviet and Nazi invaders. Now her Jewish friends face starvation in the ghetto, or death in the camps... unless she can find a way to help them.
Praise for Stolen Child:
Shortlist, CLA Book of the Year Award for Children
OLA Best Bet
Resource Links Best of the Year
Shortlist, Diamond Willow Award;
MYRCA Honour Book
 "Skrypuch succeeds in making some of the more horrific and lesser-known events of the Second World War accessible and engaging for younger readers." — Quill & Quire
Praise for Making Bombs for Hitler:
Silver Birch Award
"Excellent, enduring, everyone should see it!" — Resource Links
"Making Bombs for Hitler is a most worthy addition to the body of juvenile literature about the Second World War, and it is a novel that definitely continues to break new ground in terms of its subject matter." — CM: Canadian Review of Materials
Awards
Short-listed, Manitoba Young Readers' Choice Award, 2020
Short-listed, Snow Willow Award (Saskatchewan Young Readers' Choice), 2020
Short-listed, OLA Red Maple Award, Fiction, 2019
Short-listed, Geoffrey Bilson Award for Historical Fiction for Young People, 2019
Commended, Best Books for Kids and Teens, Canadian Children's Book Centre, Starred Selection, 2018
Rights Sold
English (US) - Scholastic Inc.
Selling Points
WWII and Holocaust themes.
Based on the true story of a family's selfless courage
Successful author with a growing international reputation.