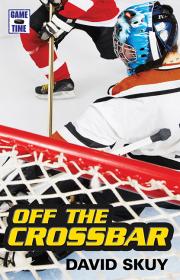 Game Time: Off the Crossbar
by David Skuy
ISBN 9781443119801 Ebook
ISBN 9780545986243 Paperback
240 Pages | Ages 10 to 14
Charlie Joyce knows he can play hockey — but can he prove it to his new classmates?
Things are not going well for 14-year-old Charlie Joyce. Tragic circumstances have forced his family to move to a new town, and now, as the new kid at Terrence Falls High School, he has a lot to prove. This school and town take their hockey seriously and Charlie wants to be on the team, but the best players in the school have taken a disliking to him and warn him not to bother trying out. Charlie knows he can't back down, and decides to let his game do the talking — no matter how unpopular it will make him.
Awards
Commended, Resource Links, Best of the Year, 2009
Rights Sold
French World - Éditions Hurtubise
Selling Points
Sports and kids are a big draw: the competition, the challenges, the friendships and the rivalries!
Fast-paced, easy-to-read story with all the action thockey fans crave.
A good next step for readers of the Slapshots and Screech Owls series.