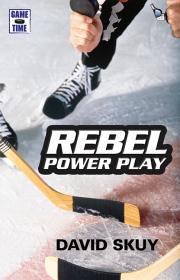 Game Time: Rebel Power Play
by David Skuy
ISBN 9781443119818 Ebook
ISBN 9780545986250 Paperback
296 Pages | Ages 10 to 14
Charlie finds himself battling with egos on his hockey team — only this time it's the coach who needs to check himself.
Charlie is unhappy that he has missed tryouts for the local league. Just when he thinks he won't be able to play AAA hockey he meets Tom Dunn, a sponsor, who encourages Charlie to try out for his new team, The Hawks. Things are looking up until practices start and the team realizes that Dunn is not coach material. As they lose game after game and lose half the team to fighting, it is left up to Charlie and some others to take matters into their own hands. But can they rebuild the team on their own?
Awards
Commended, Resource Links, Best of the Year, 2009
Rights Sold
French World - Éditions Hurtubise
Selling Points
Sports and kids are a big draw: the competition, the challenges, the friendships and the rivalries!
Fast-paced, easy-to-read story with all the action thockey fans crave.
A good next step for readers of the Slapshots and Screech Owls series.