Keep Up, Katmai!
by Pili Palm-Leis, illustrated by Barrett Hedges
ISBN 9781443163767 Hardcover
32 Pages | Ages 3 to 8
See an excerpt

A once-in-a-lifetime photo shoot transforms into a stunning goodnight picture book — starring a real family of bears!
There's a reason so many bears feature in children's books. Their mamas love them fiercely and the cubs are adorable. Keep Up, Katmai is a remarkable up-close-and-personal view into an inquisitive grizzly cub's day. Incredible photographs and a gentle storyline introduce young readers to a family of grizzlies in a way that is familiar and relatable: the baby bears eat and learn and play, the mother protects and feeds them. The story behind the photos is just as thrilling and is explored in detail at the back of the book. It makes for a spectacular package that will captivate readers young and old!
BEHIND THE SCENES: This once-in-a-lifetime shoot took place over one evening and two days on a 200-metre stretch of river during the short salmon spawning season. Most photographers would be very reluctant to get so close to bears at this time. To see a grizzly mother in the wild with four cubs is almost unheard of. To capture all five bears in one shot, in focus, looking at the camera is a very rare, magical treat. Barrett was lucky enough to capture the four cubs nursing at the same time and eating the same fish at the same time. Mama bear tolerated him only because she was very hungry and nursing four cubs and because the river formed a natural barrier.
Excerpt: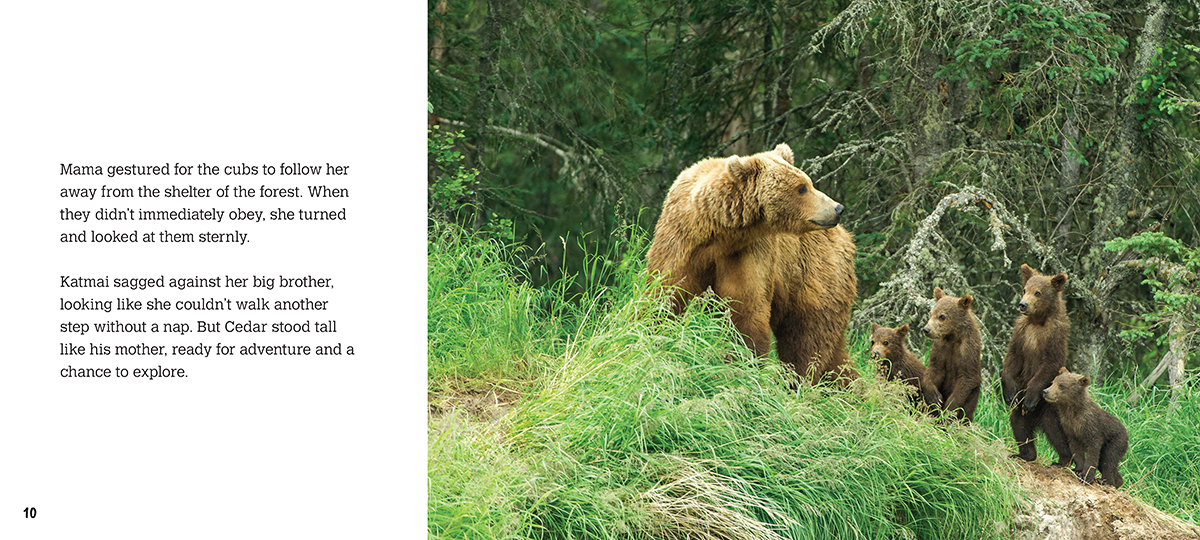 Awards
Commended, OLA Best Bets: Honourable Mention, 2019
Rights Sold
French (N. Amer) - Éditions Scholastic
Selling Points
Exceptionally high-quality photography.
Up-close insight into animals in their natural, and often threatened, environments.
An engaging story that relates to children's own experiences of the world and fosters empathy for other species — a primary strategy for conservation.
Bonus non-fiction material gives an insider's view of this incredibly rare photo shoot.