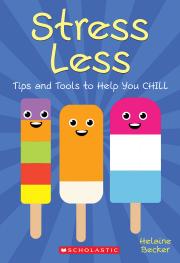 Stress Less: Tips and Tools to Help You Chill
ISBN 9781443148702 Paperback
96 Pages | 5.26" x 7.62" | Ages 8 to 13
See an excerpt

More tips and tools for the anti-stress tool kit!
When you feel yourself spinning into hyperspeed, take a moment to consciously slow down your mind and body. Take a deep breath and hold it. Then let it out with a sigh.
Do you ever feel like you've got a lot going on? School, homework, music lessons, sports teams — it never seems to end! Add to that your relationships with family, friends and teachers, and sometimes you end up with a bundle of stress.
Stress is unavoidable — and we all experience it once in a while. Flip through the pages of this book and try the easy tips to help you cope during those difficult times. From controlling your breathing to moving your body to practising gratitude, there are lots of things you can do every day to help you chill.
Rights Sold
English (India) - Scholastic India
French (N. Amer.) - Éditions Scholastic
Hungarian - Mano Lira
Indonesian - Gramedia
Serbian - Kreativni Centar
Selling Points
A light-hearted approach to dealing with stress.
Award-winning author with a strong track record of interesting, relatable non-fiction.
Children deal with higher levels of stress today than ever before — this is an ideal tool to help.
Developed in response to demand for a follow up to the successful first title.