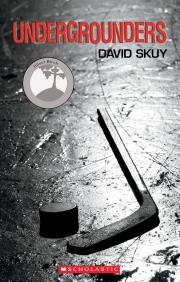 Undergrounders
by David Skuy
ISBN 9781443124645 Ebook
ISBN 9781443107280 Paperback
208 Pages | Ages 9 & Up
Can playing hockey help a street kid get his life back?
After his mom dies, and the landlord kicks him out, 12-year-old Jonathan faces the loneliness and danger of life on the streets — until he meets Lewis. Lewis takes him under his wing and leads him to his new home among a group of kids living in an abandoned underground shopping mall who call themselves the "Undergrounders." Now renamed "Mouse," Jonathan runs errands, delivers packages and panhandles for food money.
An escape from this life underground comes to him in the form of hockey gear. Stolen hockey gear, but hockey gear nonetheless. He suits up and heads to the community rink, where he befriends regular kids who welcome him into their game and onto their team. He agrees, knowing he can never tell them about being homeless.
Playing hockey makes him feel like a kid again, but keeping his double life a secret proves to be more difficult and dangerous than he ever could have imagined.
Awards
Short-listed, Rocky Mountain Book Award (Alberta Children's Choice), 2013
Runner-up, Manitoba Young Readers' Choice Award, 2013
Winner, OLA Silver Birch Award, Fiction, 2012
Short-listed, Snow Willow Award (Saskatchewan Young Readers' Choice), 2012
Commended, Best Books for Kids and Teens, Canadian Children's Book Centre, 2012
Rights Sold
French - Éditions Hurtubise
Selling Points
This is an uplifting story about hockey, friendship, and overcoming seemingly insurmountable obstacles.
This is not just a hockey book. The fact that Jonathon has lost his mother and his home and is having to survive on his own brings it to a larger audience.
This is David Skuy's best book yet.