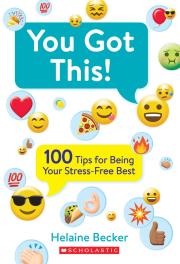 You Got This!: 100 Tips for Being Your Stress-Free Best
ISBN 9781443170451 Paperback
96 Pages | 5.270" x 7.623" | Ages 8 to 13
See an excerpt

Find out how to be your stress-free best and live an awesome life!
You Got This! provides kids ages 8 and up with 100 positive suggestions for adding fun to each and every day, contributing to their own well-being, and developing the habits of successful people.
Tips include energy boosters, social skill enhancers, confidence builders, and task managers.
A perfect companion to Don't Stress and Stress Less, this book is a reassuring reminder to kids that they have the tools to deal with all of life's hurdles.
Praise for Don't Stress: How to Handle Life's Little Problems:
"An excellent self-help book for children, parents, and teachers. The author's words have a can-do attitude, empowering everyone who reads them."— CM: Canadian Review of Materials
"In a world where life is becoming more stressful for children, it is nice to see a collection of ideas that kids could use to help themselves feel better." — Resource Links
Rights Sold
Selling Points
The author's previous books on this topic have been highly successful internationally.
Children are dealing with higher levels of stress and anxiety than ever before — this is an ideal tool to help them overcome it and flourish.
A kid-friendly approach to making every day awesome!