Biography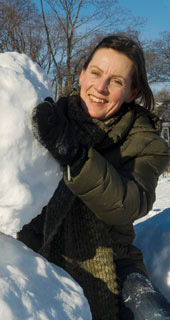 As a child, Barbara often found herself recreating the pictures from books she was reading, when the illustrations from those books weren't what she had envisioned. At the end of stories she enjoyed, she found she hated parting with the characters she had gotten to know. So she would keep the characters alive by illustrating them in her own stories.
She never thought about taking up illustration as a career, but as fate would have it, one day while she was in high school, she passed a room that had information about the Ontario College of Art. It inspired her, and she went on to study at the college.
When Barbara illustrated her first picture book, Mustard, by Betty Waterton, she was her own harshest critic. She enjoyed illustrating the book, but thought that there was room for improvement. It wasn't long before had the opportunity to work on The New Baby Calf by Edith Newlin Chase, the first book to use her Plasticine sculpture illustrations. Now, twenty titles later, her work in such picture books as The Party, The Subway Mouse, Read Me a Book, Perfect Snow, Picture a Tree and Welcome, Baby is immediately recognizable to children and parents across the country. Barbara has received every major Canadian children's book award and in 2013 she received two more outstanding honours: she was named to the Order of Canada and received the Vicky Metcalf Award for Literature for Young People.
Each Barbara Reid illustration starts off as a pencil drawing. Then Barbara molds out her drawing using Plasticine. You might think that her illustrations would be delicate, but they're actually rather heavy. Some of her final pictures have weighed up to three kilograms! And how does she make sure that the illustrations aren't damaged? She uses pizza boxes. Each illustration has its own box. (Which makes you wonder how much pizza she actually eats!)
Barbara even describes her artwork as being "like a pizza" because her images are created by adding layer upon layer of Plasticine and detail after detail to construct the completed work. She uses her fingers and fingernails as well as sticks, pins, combs, wires, cloth and other items to help shape and build each part of the picture. If she makes a mistake, she just peels off the offending piece and starts again! She also mixes her own colours and adds materials such as silver paint or glitter when special effects are needed.
Each image takes a long time to complete — large two-page spreads can take more than seven intense days to finish. Then Barbara's husband, Ian Crysler, photographs the illustrations. It's these photographs that appear in the finished book.
When she is not busy writing or illustrating books, Barbara visits schools and libraries, where she is thrilled to meet young students and see the wonderful artwork they create. Many children and classes send her letters and photos of their art — a selection of which are featured on her website, www.barbarareid.ca.
Barbara Reid is married and has two daughters. She lives in Toronto, Ontario.
Back To Top