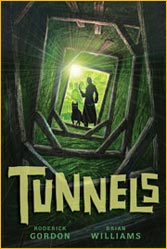 Book 1 - Tunnels
14-year-old Will Burrows has little in common with his strange, dysfunctional family. In fact, the only bond he shares with his eccentric father is a passion for archaeological excavation. So when his dad mysteriously vanishes, Will is compelled to dig up the truth behind his disappearance.
ISBN 978-0-439-87178-5 HC
ISBN 978-0-545-07881-8 PBK
656 Pages
Ages 9 and up
5 1/2" x 8 1/4"