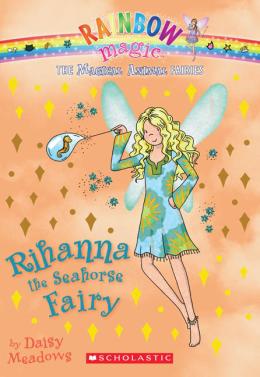 Rainbow Magic: The Magical Animal Fairies #4: Rihanna the Seahorse Fairy
Scholastic Inc | ISBN 9780545384209 Paperback
80 Pages | 5.25" x 7.56" | Ages 0 & Up
Rachel and Kirsty are off on another exciting adventure—with the Magical Animal Fairies!
Rachel and Kirsty are heading to a weeklong outdoor adventure camp! But another fairy adventure is just around the corner, too. Jack Frost has kidnapped the fairies' seven magical animals! The animals each look after a special kind of magic. Now that they're missing, everything in Fairyland and the human world is a magical mess!
The girls are taking a canoe trip on Adventure Lake! But when Rihanna the Seahorse Fairy appears, it's clear that she needs their help. Can they work together to find the magical seahorse... before the goblins do?