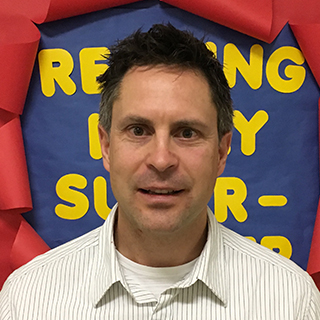 Todd Berg
---
As nominated by Lindsay Sali:
"Todd Berg is a Reading Champion because of his dedication to his students. At the beginning of the school year he implemented a Bedtime Book Club to foster habits of reading before bed. The parents of students were also highly encouraged to get involved with reading books before bed. The initiative had three phases throughout the year. The first phase was 15 for 15, where students had to read for fifteen minutes, fifteen days in a row. The 76 students who completed the challenge were entered in a draw for fun prizes. The second phase was 20 for 20, where students had to read for twenty minutes for twenty days. They had an increase in the number of kids who successfully completed the challenge, at 104 students. The last phase was a Bedtime Bingo, where the students needed to read a variety of genres. At the beginning of the year, the students were tested and it was found that 45 percent were at their reading level or above. This month when they tested they found that 68 percent of the students were at their level or above. I think that a contributing factor to the success of the program is that he picked high quality literature for students and he gave them agency in which books got put into their classroom libraries. Over the course of two days he bused the entire student body to McNally Robinson Booksellers, where many were introduced to a bookstore for the first time, and they were able to pick out books for themselves."
---
Scholastic library donation made to:
Mayfair Community School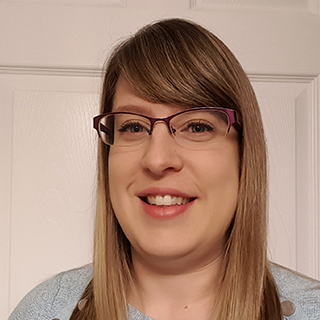 Pam Snow
---
As nominated by Niki Toomey:
"Pam Snow is one of three early childhood educators in the toddler room of the Leeds Street Child Care Centre. While each and every one of the teachers is incredible, dedicated and amazingly knowledgeable, when it comes to the love of reading Pam takes the cake. Watching Pam read a book to the children in her care brings a smile to your face. With gestures, voices and snuggles on laps, Pam's kids hang on her every word. She knows each child's favourite book and character. My daughter is still potty training, and Pam and the other teachers started incorporating more potty training books and songs into the day and made some recommendations to me. It switched things for me from being something that I had failed at to something I suddenly had a support network for, supported with reading. Pam and the other teachers also often incorporate other languages into the classroom, particularly French. My daughter Willa has long shown an aptitude for language. Pam picked up on this and started to incorporate more languages into her teaching. Pam would use her phone to teach the children French words, phrases and songs, and they ate it up! While this was going on, I had the opportunity to visit Quebec. While there, I bought some age-appropriate French language books. When I brought the books in and gave them to Pam, she cried. She was so excited to start to read the books to her kids and teach them some new words and phrases. She and the other teachers at the Leeds Street Child Care Centre are spectacular."
---
Scholastic library donation made to:
Leeds Street Child Care Centre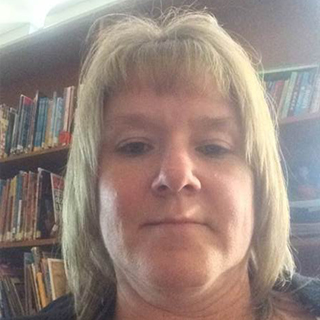 Susan Hadfield
---
As nominated by Melissa Piva:
"Susan Hadfield is the librarian at Malden Central Public School. She oversees the book orders for the entire school, and organizes and oversees an annual book fair. She helps the kids to find books that suit their interests, and she really connects with them. The reason I am nominating her is because of something that happened when my youngest child was entering SK. The summer between JK and SK, my child began a journey of gender expression and identity exploration. At the time we notified the school of our situation, Susan was approaching maternity leave. She was quick to not only see that the school library was stocked with many books embracing diversity and acceptance, but also to make diversity and acceptance strong points in the curriculum she was preparing for our substitute librarian by lining up story time books about different types of families, diversity, gender expression and acceptance. In doing this she helped to pave the way for a smoother and more accepting transition for my child, as well as any other children that may stand out for their differences. Her efforts and acceptance meant the world to both myself and my daughter."
---
Scholastic library donation made to:
Malden Central Public School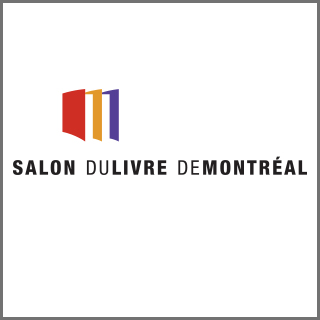 Salon du livre de Montréal
---
As nominated by Veronica Rousseau:
"I'm delighted to nominate the Salon du livre de Montréal (Montreal Book Fair). This non-profit corporation was created from a passion for books and the event has taken place annually over the past 40 years. Today, the Salon brings together more than 2,000 authors and 1,000 publishing houses, and is a cornerstone of Montréal's cultural scene. In 2017, the Salon received 119,000 visitors over the course of the 6-day event and welcomed 18,000 children through school trips. The Salon is the perfect opportunity for young people to discover a literary world that may be unfamiliar to them. The activities and the performances at Salon inspire a passion for reading. The Salon also partners with the Fondation pour l'alphabétisation (Literacy Foundation) through the La lecture en cadeau (Gift of Reading) program. The Salon team have made it their mission to promote reading and showcase authors within Canada and around the world. Salon du livre de Montréal deserves the title of Reading Champion because of its support of the literary world. For 40 years, the Salon du livre de Montréal has fostered public contact with regional, national and international publishers. It is recognized as an outstanding contribution to the promotion of reading, books, Canadian authors and the publishing world."
---
Scholastic library donation made to:
Gift of Reading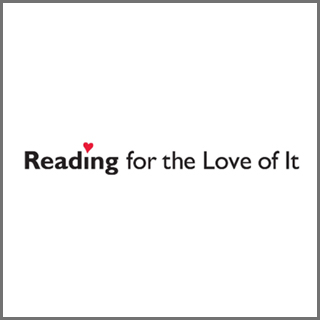 Reading for the Love of It
---
As nominated by Joan Barrett:
"Reading for the Love of It is a non-profit organization of teachers from the elementary and secondary panels of both the Toronto Catholic District School Board and the Toronto District School Board. This group of dedicated teachers have been fostering the love of books and reading for the last forty-one years, giving freely of their time. This group began as a dream, the inspiration of two school boards — East York and Scarborough — and originally held their small conferences in a school. From its beginning, Reading for the Love of It has been committed to improving the quality of literacy instruction in schools. Now it is known across the country. Yes, teachers from all parts of Canada come together to celebrate reading for two days each year!
Over 2000 teachers, vice principals, principals, consultants and superintendents come to the Language Arts Conference in Toronto each February. Everyone has opportunities to learn more about the teaching of reading, meet famous authors, discover new book titles to take back to their classrooms and meet with teachers from other parts of the province, the country and often other parts of the world. We are excited, too, that in the last few years we have had teachers join us from fly-in Indigenous communities.
Outreach is a major focus of the work this organization does, as it supports literacy both here in Ontario and around the world. All money from the conference, after expenses, goes to outreach projects selected yearly by the Outreach Committee. Over the years, we have supported teachers and students in Kenya, Peru and Haiti; provided needed school materials and backpacks to various places in the world; given books to food banks, an Indigenous daycare centre and other outreach centres in the GTA; and placed books in the hands of refugees — most recently in Ioannina, Greece.
I believe this group of dedicated people deserve to be recognized as Reading Champions as Scholastic celebrates their 60th anniversary."
---
Scholastic library donation made to:
Outreach Committee