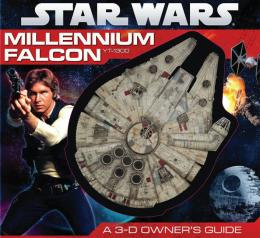 Star Wars: Millennium Falcon: 3-D Owner's Guide
Scholastic Inc | ISBN 9780545210386 Board book
24 Pages | 11" x 12" | Ages 8 to 12
"What a piece of junk!"
"She'll make point five past lightspeed. She may not look like much, but she's got it where it counts, kid. I've made a lot of special modifications myself."
Get the keys to the most famous ship in the galaxy! Explore the Millennium Falcon layer-by-layer, from the clandestine cargo bays to the highly guarded secrets to its speed. Not to mention all the laser cannons, cockpit controls, and circuitry bays you can handleplus expert notes on those "special modifications" from the master of the Millennium Falcon himself, Han Solo. A must-have for any Star Wars fan.